The Legacy Project is an initiative that hopes to inspire you through providing you with unlimited access to extraordinary individuals, each of whom have achieved Greatness in their own, unique and varying form. Each person who they interview and profile provides you with a different viewpoint, as well as different lessons to learn from. Our very own Kanchana Moodliar was featured and we are proud of this achievement.
Kanchana Moodliar is a serial entrepreneur, philanthropist, philosopher, yoga teacher, writer, brand strategist, and change maker who believes that a small group of conscious individuals can indeed change the world. She aims to touch as many people across the globe as possible with messages of hope, so all beings may experience joy, health, love, and dignity in this lifetime. She realized the corporate world was not for her and left the likes of Unilever and The Foschini Group to venture out on her own. Her philanthropic project, Saris for Good Karma, led to her making the 2012 Mail & Guardian Top 200 Young South Africans List in the Civil Society category and empowered over 100 poverty stricken women.
My Definition Of Success | To me, success means freedom. Freedom to move, to travel, to enjoy adventures, and find love in my work…and to have the time to get to know myself completely during my journey called LIFE. Freedom that culminates into me being myself at all times, and to have the ability to express who I am, without reservation or fear of judgment. Absolute success is to live this freedom in life with a peaceful heart and to excel in every facet of life such as the mental, emotional, spiritual and physical, without compromising one facet for another. When one can achieve all of this – then to me one is successful.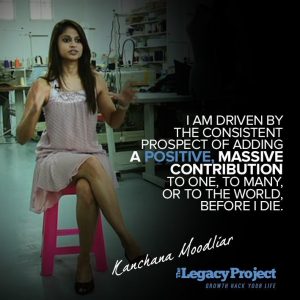 I Am Driven By | I am driven by the thought of being consequential in the grand scheme of things. I am driven by the consistent prospect of adding a positive, massive contribution to one, to many, or to the world, before I die. Every day I am driven by ways in which I can do just that by means of unlocking positive change and solutions with the right people all over the world.
My Highlights | In my career I am blessed to have so many highlights. Right now I am proud to be one of 40 global consultants (we call ourselves Business Humanizers) of the most brilliant marketing company on the planet, Innate Motion. Together we are influencing the world's biggest brands, to put purpose at the heart of everything our clients do, so they can contribute to a better more prosperous planet. Another highlight, was my successful nomination onto the Mail & Guardian Top 200 list in Civil Society for a Not for Profit Organization I started called, Saris for Good Karma. Here my organization helped to empower over 150 women to be self-sufficient by creating/adding value to donated products, which were subsequently sold by…
For the full interview and more on Kanchana, visit Legacy Project